Shipping & Delivery
Shipping Times
The process will allow 1-3 business day for your order (excluding public holidays), Orders received on weekends and holidays will be processed the next business day, in addition to delivery time.
We will make every effort to deliver your order within the estimated timescales.
However, delays are occasionally inevitable due to unforeseen factors or events outside of our control.
For example, travel or transportation disruption make import delays or higher than anticipated demand.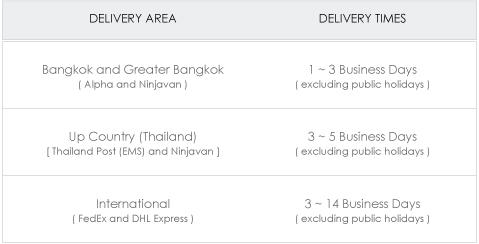 Shipping Fee
Thailand: Free of charge
International: Shipping fees are as follows based on Zone regions: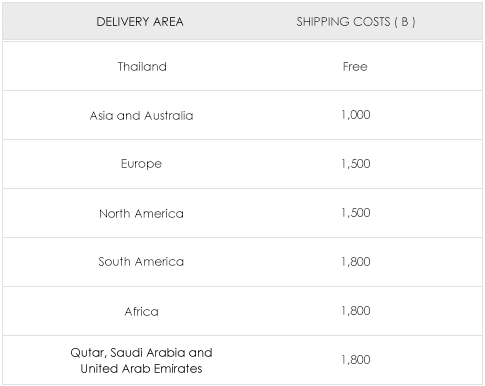 Please note:
The international customers will be liable for any import duty or other taxes, fees and charges that are applied by customs or other authorities in the country of receipt. These additional charges are the responsibility of the recipient. We cannot control or predict these charges since customs policies vary widely from country to country. If you are unsure about whether these duties, taxes, and charges might apply to your order, you should contact your local tax or customs authorities.
We do not deliver to PO Boxes.
ระยะเวลาในการจัดส่ง
คำสั่งซื้อของคุณจะถูกดำเนินการภายใน 1-3 วันทำการ ไม่รวมวันหยุดนักขัตฤกษ์และนอกเหนือจากระยะเวลาในการจัดส่ง
เราจะพยายามจัดส่งสินค้าของคุณภายในระยะเวลาที่กำหนด
อย่างไรก็ตาม ความล่าช้าบางครั้งอาจหลีกเลี่ยงไม่ได้ อันเนื่องมาจากปัจจัยที่ไม่คาดฝันหรือเหตุการณ์ที่อยู่นอกเหนือการควบคุมของเรา
กรุงเทพฯและปริมณฑล: 1-3 วันทำการ (ไม่รวมวันหยุดนักขัตฤกษ์) ดำเนินการโดย Alpha และ Ninjavan
ต่างจังหวัด: 3-5 วันทำการ (ไม่รวมวันหยุดนักขัตฤกษ์) ดำเนินการโดยไปรษณีย์ไทย (EMS) และ Ninjavan
ต่างประเทศ: 5-14 วันทำการ (ไม่รวมวันหยุดนักขัตฤกษ์) ดำเนินการโดย FedEx และ DHL Express
ค่าธรรมเนียมในการจัดส่ง
ประเทศไทย: ไม่มีค่าธรรมเนียม